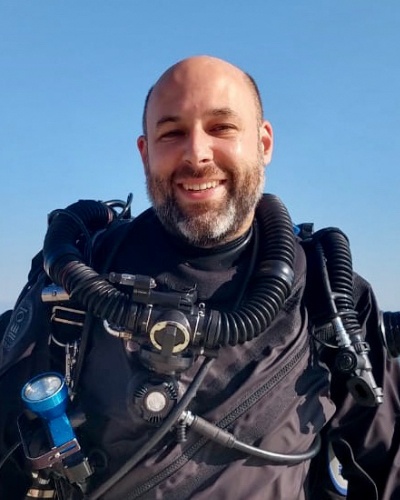 Andreas Baumgaertner
Managing Director
---
Born and raised in the southern part of Germany, Andy spent most of his time hiking and skiing in the nearby Alps. When he was 14 years old a family vacation took him to Spain. In the resort he saw an advertisement for Scuba lessons and being always fascinated with water he begged his parents to sign him in. This was his first introduction to Scuba and ever since that time he was fascinated with the idea of diving and exploring the underwater world.
Moving to Hong Kong in 2002 finally gave him the perfect opportunity to follow his dream and properly learn Scuba diving. From the day he was certified Andy spend as much time in the water as he could traveling around Asia diving some the world's best locations.
Certified IANTD Technical Wreck diver
Certified Normoxic Trimix diver
GUE Fundamentals Instructor
---
Andy really pushed my boundaries and challenged me by adding components to the course every day. Thanks to Andy's high standards I am a confident, competent and safe Technical Diver.
As a tech diver I had some questions on equipment I required for an upcoming course. Andy ensured he gave me a few choices with the pros and cons in his opinion of each and made sure I could make an informed decision. This advice extended beyond the initial purchase and Andy has always been available to provide quality knowledgeable service.
---
BACKGROUND
Before starting his professional training Andy got introduced to technical diving in 2006. He is now a certified IANTD Technical Wreck and Normoxic Trimix diver. His passion for wrecks brought him to remote locations diving some of the world's best ship wrecks. He participated in Technical Diving expeditions from the USS Houston to the HMAS Perth and to Sri Lanka in 2017 exploring the WWII aircraft carrier HMS Hermes. This passion for overhead environment diving has led to Andy undertaking Cave diving with numerous trips to the caves in Mexico and Florida having been completed in the past few years.
Furthering his desire to continuously improve his knowledge and skill set, Andy has challenged himself by taking numerous GUE courses, being instructed by some of the top instructors from the agency for Tech 1, Tech 2, Cave 1, DPV 1 and Fundamentals ITC.
To share his passion and love for diving and the underwater world Andy joined and started professional training in 2009. He became a PADI Divemaster, Open Water Scuba Instructor and EFR Instructor, MSDT and IDC Staff Instructor. He also underwent training to become a technical instructor and is now able to share his expertise and experiences in this field as a PADI and TDI Trimix Instructor and a GUE Fundamentals Instructor.