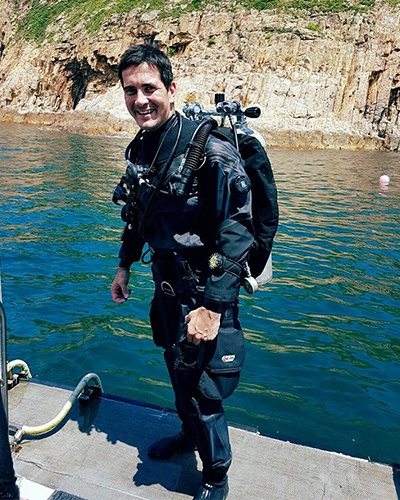 Andrew Couch
Managing Director
---
Andrew was born in Hong Kong, raised in the UK and moved back to Hong Kong in 2003, where he has found his home back in Asia. At the age of 10, he learnt to dive in Thailand and has been in and around the water ever since, enjoying diving for the past 30 years.
His love of the water extends to his education having studied Ocean Science in the UK and being provided with the opportunity to enhance his passion for diving by learning the skills required for the world of Commercial Diving by taking and completing the HSE Professional SCUBA Divers certification. Since leaving University he has pursued his interest in the water into the Instruction of SCUBA diving and in 2003 became a PADI Open Water Instructor.
HSE Professional SCUBA Diver
PADI Open Water Instructor
Trimix Instructor Trainer Level
---
I did GUE Fundamentals with Andrew and got a Rec Pass a year ago, followed by a Tec pass recently. 
He is a good coach that keeps high standard and at the meanwhile, devotes to help you overcome the challenges. 
Gone through Tec Deep, Tec Sidemount and GUE Fundementals with Andrew, he is an awesome instructor!
---
BACKGROUND
Now Andrew is an active Instructor in South East Asia and has furthered his knowledge of training in Technical Diving and Closed Circuit Rebreathers and is currently qualified to Trimix Instructor Trainer Level with TDI, PADI, RAID and IANTD. He has also achieved the PADI Course Director rating in 2007 providing a wealth of knowledge in both recreational and technical diving to his students.
In October 2004, Andrew undertook the GUE Fundamentals course in order to develop and enhance his diving abilities and began an affiliation with one of the highest rated diving agencies in the industry, undertaking courses up to Tech 2 Diver, Cave 1 and DPV 1 Diver and is currently one of a limited number of GUE Instructors in the world being able to teach the GUE Fundamentals and Rec 1 courses and hopefully soon the Tech 1 courses.
Outside the world of teaching diving, Andrew has been able to undertake scientific research dives around Hong Kong and South East Asian waters including surveying the Artificial Reefs around Hong Kong, providing all logistical and dive support services for several projects over the past 20 years.
Practicing what he preaches, Andrew regularly undertakes experience dives for his own development and has been a member of several technical diving expeditions, exploring both open water and overhead enviroment dive sites.